Admitted Fall Transfer Checklist
Admitted Fall Transfer Checklist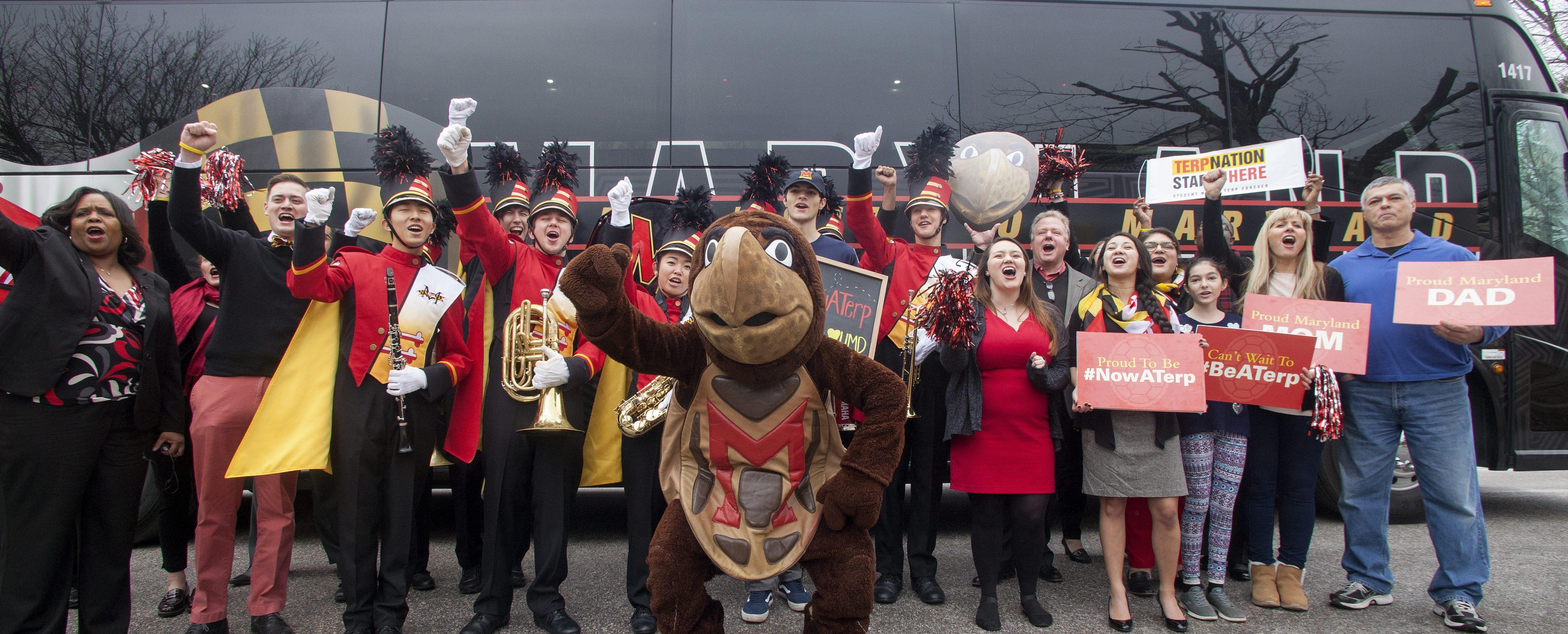 Congratulations on your admission to the University of Maryland! You're #NowATerp!
Review Admission Decision FAQs
Before Confirming Your Enrollment:
After Confirming Your Enrollment:
It is our expectation that you maintain your current level of academic performance. In addition, the university requires you to update our office should you have disciplinary action taken against you between the time you submitted your application and the start of classes. If this is the case, please email ApplyMaryland@umd.edu with the subject line "Disciplinary Update". Any significant changes in either of the above could result in the reassessment of your admission decision.
If you're an International student, you'll need to work with the office of International Student & Scholar Services (ISSS) to receive a Form I-20 and complete additional items for new international students. International students must confirm their enrollment at UMD before their student visa application process can begin. In addition to new student orientation, international students may also be required to attend the International Student Orientation F-1/J-1 immigration session offered by ISSS.
After confirming your enrollment and activating your Directory ID, make sure you register for new student orientation, which is required of all incoming students, regardless of residency status.
During orientation you will get to meet with faculty and staff, connect with your peers, become familiar with campus resources, and register for classes for your first semester. If you need assistance, please contact the Office of Student Orientation and Transition.
All transfer students are encouraged to take the Math Placement Test before orientation. You are required to take the test if you don't have equivalent credit for MATH140 and have received a 2.0 in that class or if you are entering the School of Public Health or College of Behavioral & Social Sciences, regardless of prior coursework and credits. Transfer students in the A. James Clark School of Engineering and Robert H. Smith School of Business do not need to take the Math Placement Test.
Transfer students must submit official college transcripts upon completion of any courses in progress. If you've earned credits through courses at another institution or through standard exams (such as AP, IB, A/AS Level and CLEP exams), they may count toward your UMD degree.
Your institution should mail transcripts directly to the Office of Undergraduate Admissions at the address below or submit them electronically through StandOut Admissions Network, Naviance, USM ET or eSCRIP-SAFE. Transcripts cannot be emailed, scanned or faxed to our office.
University of Maryland
Office of Undergraduate Admissions
Mitchell Building
7999 Regents Dr.
College Park, MD 20742-5235
Regardless of where you live, you'll likely use the resources of the university's Department of Transportation Services (DOTS). In addition to operating several campus-based routes that run up to 20 hours per day, Shuttle-UM buses travel to local neighborhoods, Metro stations, shops, restaurants and nearby apartment communities. All you need to ride Shuttle-UM is your student ID.
Eligible students who live in residence halls may purchase parking permits and bring their vehicles to campus on a space-available basis. A range of permits, including options for carpoolers and students who plan to drive to campus only occasionally, are available for off-campus students. DOTS also offers services for students who commute by bicycle.
In order to keep our campus healthy and safe, all incoming students are required to submit proof of immunizations prior to their arrival on campus. Domestic undergraduate students will also need to provide proof of health insurance by September 15, or enroll in the school-sponsored plan. International students will automatically be enrolled in the school-sponsored plan. If you need assistance, please contact the University Health Center.
As you begin your #AlwaysATerp journey, check these things off your list to connect with fellow Terps and stay updated on all things UMD:
Reading The Diamondback, the independent student newspaper, and Maryland Today, the university's daily information site, are great ways to stay up-to-date on academics, programs, sports and events on campus.

Explore the 800+ student organizations here at UMD.

Scroll through the Student Entertainment Events calendar so you don't miss out on things like Battle of the Bands, free movie screenings, comedy shows and more.